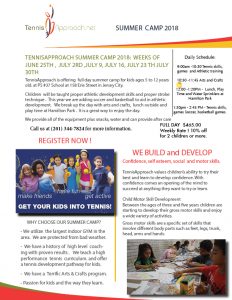 We look forward to TennisApproach Summer Camp 2018. Click into the calendar to sign up. Use Code FAM10 for 10% off for more than 1 child or if attending 3 or more weeks. Half day rate is $275/week 9:00am – 12:00pm. To sign up, click and scroll on the calendar until you get to June or July and then click into any day of the week in order to register for that week. For more than one week , you can sign up and pick the weeks that you want.
Cancellation and Refund Policy:
Full refunds can be issued if a cancellation for the camp is made 6 weeks or more prior to the first day of camp.
A cancellation fee is charged  for cancellations that occur closer to camp start .  See below
50%  of total for any cancellation  2 weeks or less prior to the first day of camp or 75% credit for next year's camp.
25%  of the total for 3 weeks notice
20% of the total  for 4 weeks notice
15% o the  total  for 5 weeks notice
Camp Check List and Update :
Please have your child bring the following each day:
Bathing suit and change of clothes

An extra old T shirt for arts and crafts to be used as a smock

flip flops and sneakers.

They can bring their own racket(with name on it)  but we also have rackets for them if they need to use ours.

Lunch , snack beverage
Drop off and Pick up:
Drop off is at Public School #37 158 Erie Street Jersey City ,NJ 07302 downstairs in the GYM at 9:00am.
Pickup will either be at the Security Desk as you enter the school , the gym, or this year we may have pickup by 3pm sharp at Hamilton Park.
After care pickup will be at 4pm sharp at the Gazebo at Hamilton Park. If late please call us to let us know.